WHAT HAPPENED THIS YEAR
I spent five months deployed: January, February, March, May, and June. It seems like a lot of time when spelled out like that, but for the most part it was easy and went by quickly. I got fully qualified and my aircrew wings. Best of all, though, I got to be in Hawaii for my birthday and I got to go home for a friend's wedding and for Christmas too! I feel lucky. For all my worrying, things turned out okay.
I went on a trip to Alaska. I saw Denali, Wrangell-St. Elias, and Kenai Fjords. Now I have a truer understanding of what constitutes a wilderness. Alaska is sprawling and untamed and beautiful. I admire it and fear it. I would love to go back someday.
I got to spend some time with a friend in Washington as well. I'm proud of these videos.
I ran my first half-marathon! It was fun and challenging, but I don't think I'll do it again.
I started going to therapy again. It would be dishonest to say I've made a lot of progress – sometimes you don't know how junked up you are on the inside until a professional calls you out on your own bullshit – but I'm at least becoming aware of what the path ahead of me looks like. The biggest difference between the start and the end of this year is that I now see the journey as worthwhile.
I started volunteering regularly. On Wednesdays I help out at the library on base. I really like the librarians and the work, too: re-shelving, helping out with programs, cleaning, cataloging. The place is always super busy and the time goes by fast.
I read my most books ever – 75 in a year! Thanks, deployment! Even if you take out the comics and graphic novels and novellas, I went way beyond what I was aiming for. A book per week has become a reliably attainable goal. I will stick to it for next year. You can find all the books I read this year here.
My recurring resolution to write a blog post every month frustrates the hell out of me. I wish I would stop doing this to myself. But I'm in the habit of doing it by now, and I know if I drop it, I will probably never find the motivation to write anything at all. I need something that will force me to, even only once a month.
BOOK OF THE YEAR
I think we all harbor some sort of secret fantasy about the life we wish we could live. If I wasn't such a coward, my dream is to move to some remote wilderness and stake out a solitary, sustainable life for myself. Whiskey When We're Dry takes that daydream and shakes it up with my favorite fantasy life: a nineteenth-century, wild-wild-west story of a trick-shooting, cross-dressing young woman on a quest to redeem her family name. I get goosebumps just thinking about it. Jessilyn has the authentically Western voice that I've been craving since reading True Grit and her integrity and tenacity left me feeling breathless, inspired, a little bit in love. I devoured every word of this story. I can't wait to reread it.
2018 Runners-Up
Saga by Brian K Vaughan and Fiona Staples (volume #9 ruined my will to live)
The Witch Elm by Tana French
Circe by Madeline Miller
ALBUM OF THE YEAR
Jonna Lee's music has been making a huge impact on my life for almost a decade. Her entire iamamiwhoami project deserves a long write-up of its own. But her music and videos are so dear to me that anything I write feels so incomplete, so inadequate. I have been trying and failing for years to express how much I love what she does.
Think about the art that you appreciate the most. Try to describe it in such a way that conveys its significance in your life and encourages others to make room in their own hearts for it. I see this all the time when people recommend TV shows. You just have to watch it, they say.
For her three iamamiwhoami albums (bounty, 2011; kin, 2012; blue, 2014), Lee released the music and videos simultaneously. It was almost impossible to separate the visuals from the audio. The secrecy behind the project also made the release of each new video feel like a dispatch from the beyond, a clue that might reveal more of the machinations behind the creators.
Jonna Lee is a performer, though – she wants to interact with the audience behind the screens, take the audiovisual show to the real world. There was only so long that she could continue as iamamiwhoami. Though Everyone Afraid to Be Forgotten is her first venture beyond iamamiwhoami, it retains enough of the project's visual motifs and audio samples that it feels like an authentic transition between the two.
Much to my relief, it stands spectacularly on its own two feet.
In Everyone Afraid to Be Forgotten, every song, separately, is memorable. The more upbeat synth tracks that Lee has become known for – SAMARITAN (with excellent costuming by COMME des GARÇONS) and NOT HUMAN, for example – contrasts in sound but not in tone with her slower, echoing dirges (LIKE HELL, HERE IS A WARNING). The haunting live recording of DUNES OF SAND in Jonna Lee's hometown church provides some of the dopest acoustics your ears will ever be blessed with.
But where Jonna Lee really excels is audiovisual thematic unity. Linking the music with the videos is what makes Lee's audiovisual storytelling so compelling and unforgettable. So the first time I watched the album's movie accompaniment, I was actually a little underwhelmed. It felt like there was something missing.
There is just something about the way she produces a short video, contained to one song, that is perfect. No one else is doing what she does. I can't wait to see what she does next.
2018 Runners-Up
By the Way, I Forgive You (Brandi Carlile)
Be the Cowboy (Mitski)
Dirty Computer (Janelle Monáe)
MOVIE OF THE YEAR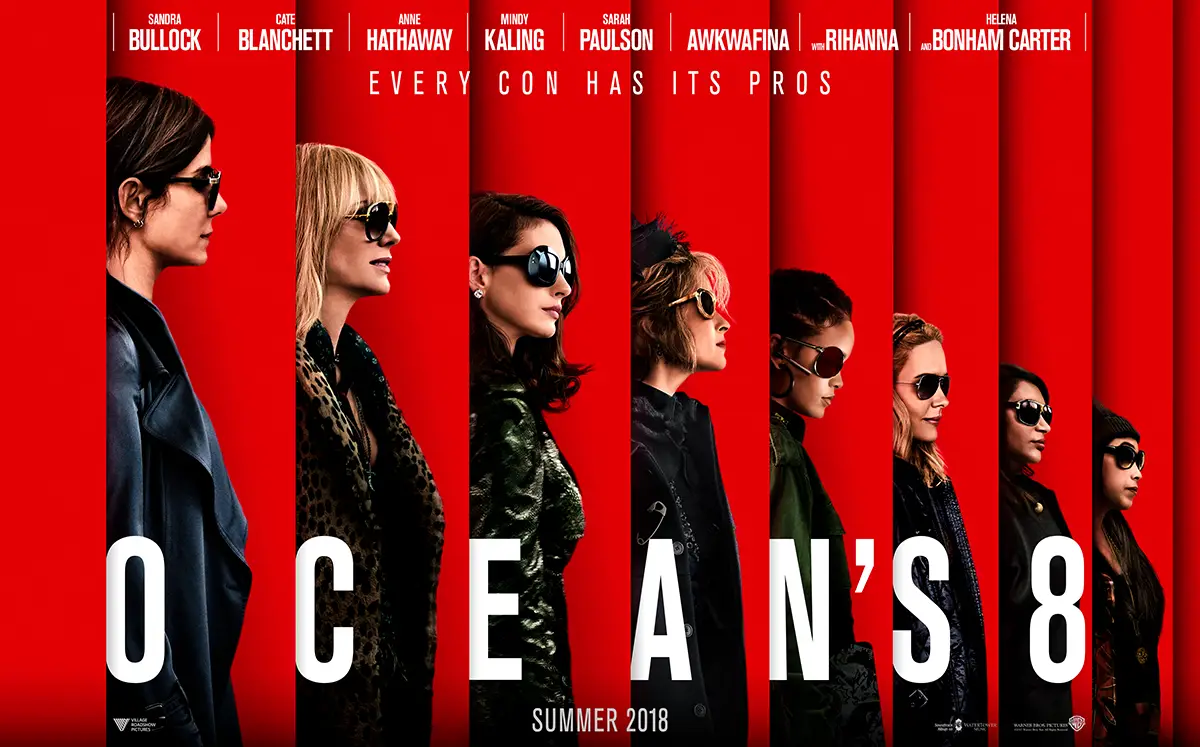 Look, this one isn't deep. I like these women and I love a good heist. Ocean's 8 is light-hearted, fast-paced, and fun. It doesn't take itself seriously. I liked it when I watched it the first time and I was surprised when I really enjoyed watching it a second time.
2018 Runners-Up
Black Panther
Crazy Rich Asians
Bird Box
TV SHOW OF THE YEAR
During my first deployment this year, I was on a lot of overnight watches. It wasn't a real watch, though, because I got to watch a lot of TV. And I watched the entirety of Brooklyn Nine-Nine in an embarrassingly short amount of time.
Once I started, I couldn't stop. This show is pretty close to perfect. It is hilarious at no one's expense, my favorite type of humor. Many of the episodes convey substantial moral messages. All of the characters have substance and depth – most of all, in this year's season, Rosa. Her coming out was portrayed so perfectly that it stayed with me all year long. It was honest, it was authentic, and it gave me hope. It made me feel less alone during a time when I was very lonely. I'll always be grateful for that.
2018 Runners-Up
Terrace House: Opening New Doors
The Great British Baking Show
GAME OF THE YEAR
2018 was the year of beautiful indie games that made me cry. It started with Monument Valley – both, though neither are 2018 games – and then there was Florence and later Gris. What all of these games had in common was they felt like playable works of art.
Just on the surface, there is a lot to like about Celeste (by Matt Makes Games, also creator of TowerFall). The music is some of the best I've ever heard; seriously, ask anyone I work with: I have been listening to the soundtrack nonstop for months. If you've taken the time to read all of these words (thank you) and you get nothing else from this post, put on some good headphones and listen to the music* from Celeste. The pixel art is also gorgeous. The game controls are so simple and tight that there is zero room for error. As a 2D platformer, Celeste belongs to a genre that is notoriously brutal and unforgiving. From the very start of the game, though, Celeste sets an encouraging tone for the player: "You can do this," the protagonist tells herself. "Just breathe."
"Celeste gives me the tools and guidance to succeed so that every death is my own fault," writes Emily Heller for Polygon. "I find this oddly comforting, since I know every stage can be bested; I just have to keep trying."
There are going to be many times during this game where you want to give up. I can't count how many times I rage-quit (though I can say exactly how many times I died, since the game keeps track). But after some time away, I would resume the game and beat that seemingly impossible puzzle almost effortlessly. Why was it so hard before?
Celeste Mountain makes manifest the climbers' deepest fears. For Madeline, a physical embodiment of her anxiety discourages her from continuing her journey. Madeline first tries to outrun this part of herself, then musters up her courage to confront her head-on. I don't need you, Madeline tells the negative part of herself. You're holding me back. This pushing-away has terrible consequences, though, and Madeline hits rock bottom – literally the deepest depths of the mountain. There, she realizes that she can't conquer Celeste without accepting herself in her totality, fears and all. Madeline's contrition and reconciliation with the negative part of herself moved me to tears. Together, supporting one another, they summit the mountain.
Through some challenging gameplay (just want to emphasize that again: this game is very hard), Celeste teaches the player that progress isn't always linear. Through Madeline's experience, the game reveals that the only way to conquer your fears is through self-love. It is the starting place for true change.
This slideshow requires JavaScript.
If you play Celeste (and I really, really hope you do), remember that the effort is what makes it rewarding. It is supposed to be hard. But you'll get better, and you'll return to earlier levels and wonder how in the world you found them difficult at all. Facing your fears and accepting yourself sometimes demands an intense inner struggle, too, but you're going to come out on the other side – or on the top of the mountain – better for it.
2018 Runners-Up
Into the Breach
Florence
Gris
* Lena Raine, the composer for Celeste's music, wrote a really interesting blog post about her creative process using as an example one of the game's most popular tracks. As someone who knows nothing about music, this sort of thing is super interesting to me, and maybe it will be for you too.
FOR NEXT YEAR
I am still trying to stop swearing. I was doing pretty well at this for a while, but inevitably we are influenced by the people around us. I'm going to keep trying.
I have to stop using my phone while driving. This is a terrible habit. Even with my phone mounted to my dashboard, I don't need to keep changing my music while I'm driving, and definitely I don't need to read a text or check my Neko Atsume cats "real quick" at a stop light. If you're in the car with me, please keep me accountable.
I want to – need to – write more. It's a shame that the only writing I do anymore is for work and for this blog. I have to find some way to stay inspired. Someone please start a creative project with me to maintain my motivation.
Some undefined fitness goal? I focused a lot on running and swimming this year with an appalling collection of tan lines to show for it. Maybe 2019 is the year I come back to the church of iron? Maybe it will be the year I find the balance between the two? Maybe I will give up and be fat in peace at last?
Finally, I am turning 30 soon. I thought this would scare me. With the exception of things that are the result of trauma, as I get older, I feel less afraid, less frantic, less rushed. A family friend once told me that, in his head, he doesn't feel any older than he was in his twenties; it's his body that betrays him. I think I'm starting to understand what he meant.